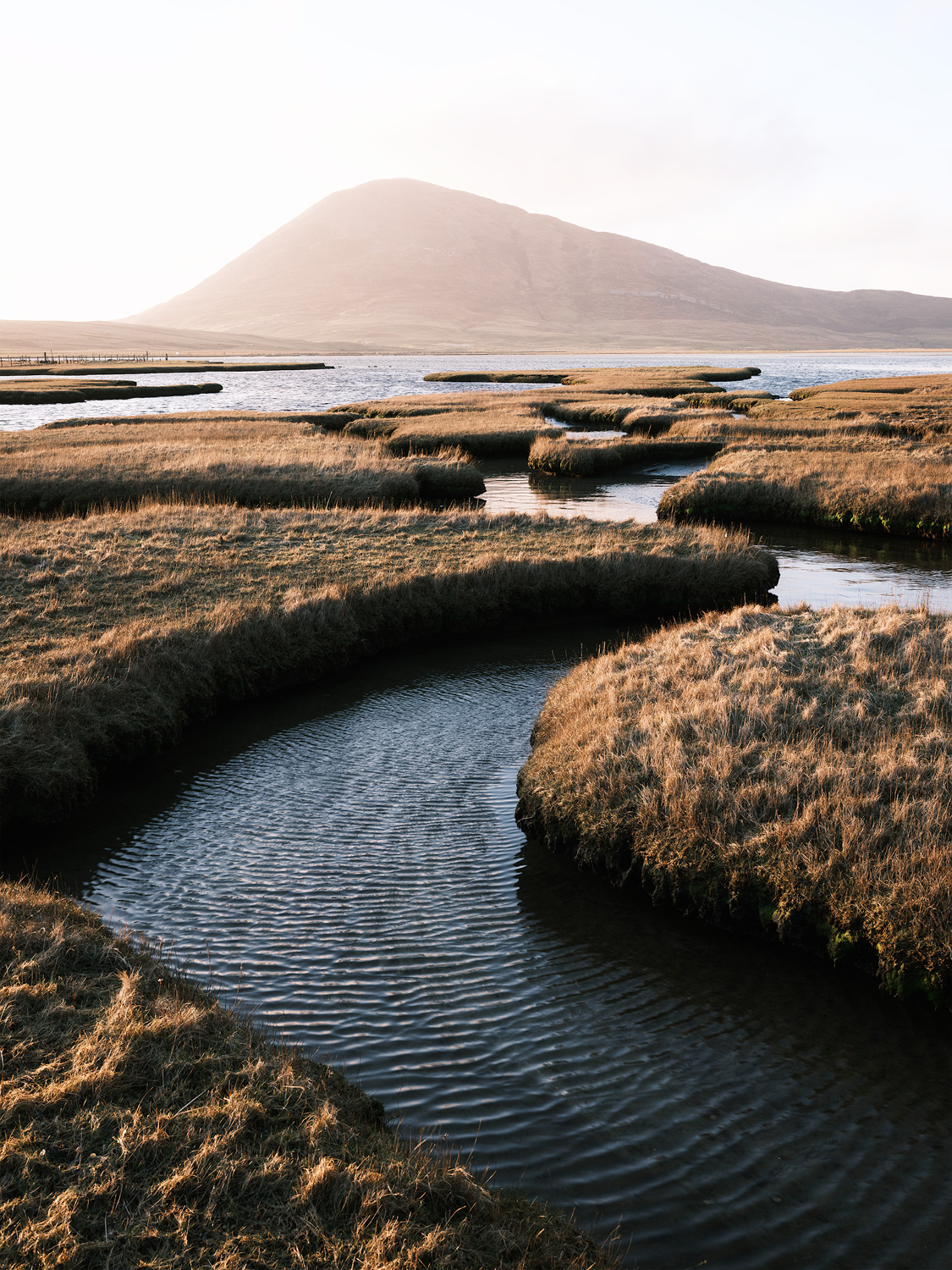 My glaze was drawn into the maze of salt marshland as it meandered into the majestic distant Hebrides' landscape. Moments before, refreshing rain covered my footsteps, revealing a vista of vibrancy as it broke through heavy clouds. The air was mist-like, uncovering its beauty through the crisp rays of light dancing as the plough wind dissipated. I knew the location, one of my favourites, so it felt fitting to photograph the Isle of Harris on the day I entered the world (albeit 35 years after that…).
With tripod steadfast and aperture priority in motion, I began to ponder the effect my choice of settings would have. The Fujifilm GFX 50R could capture the scene, but it was my responsibility for conveying the movement, emotion and connection. Several minutes before pressing the shutter, the scene was dark, dull and void of catchlight. At that moment, I'm glad I stayed dry. In retrospect, the resulting image tells me what's important in photography and what's indeed trivial. I believe that a perfectly composed photo in a great location will always be average at best if the light isn't right. Light is what matters.
Choosing a shutter speed of around a second or more would have portrayed the movement of the water as a silky mirror. However, I felt I would lose the connection with the wind and, beyond that, the true representation of the natural world. So instead, I increased the ISO to 400 and compensated for a faster shutter speed, dialled in at 1/25 of a second. I felt this optimal speed captured the moment of the elements in a dynamic way.
The Salt Marsh on South Harris is one of the highlights of my outdoor expeditions. Every morning and evening are different. It's never the same twice. You can never really predict the weather, so spending time waiting and watching for the perfect moment is important. That's what makes this photo special; it's never going to happen again.
I love the resulting image in the Fujifilm Classic Negative film simulation as it highlights the harmonic colour and structural contrast. The details of the dilapidated fence in the distance and the sun-kissed grasses in the salt marsh create a sense of growth and time that one can't replicate anywhere else. The 50mm focal length performed exceptionally when capturing the light and beauty within the scene, making the photo a one-off and something I'm very proud to have witnessed.
Camera: Fujifilm GFX50R
Lens: Fujinon GF50mm f/3.5
f/16 – 1/25s – ISO 400
Salt Marsh, Northton, Isle of Harris, Scotland