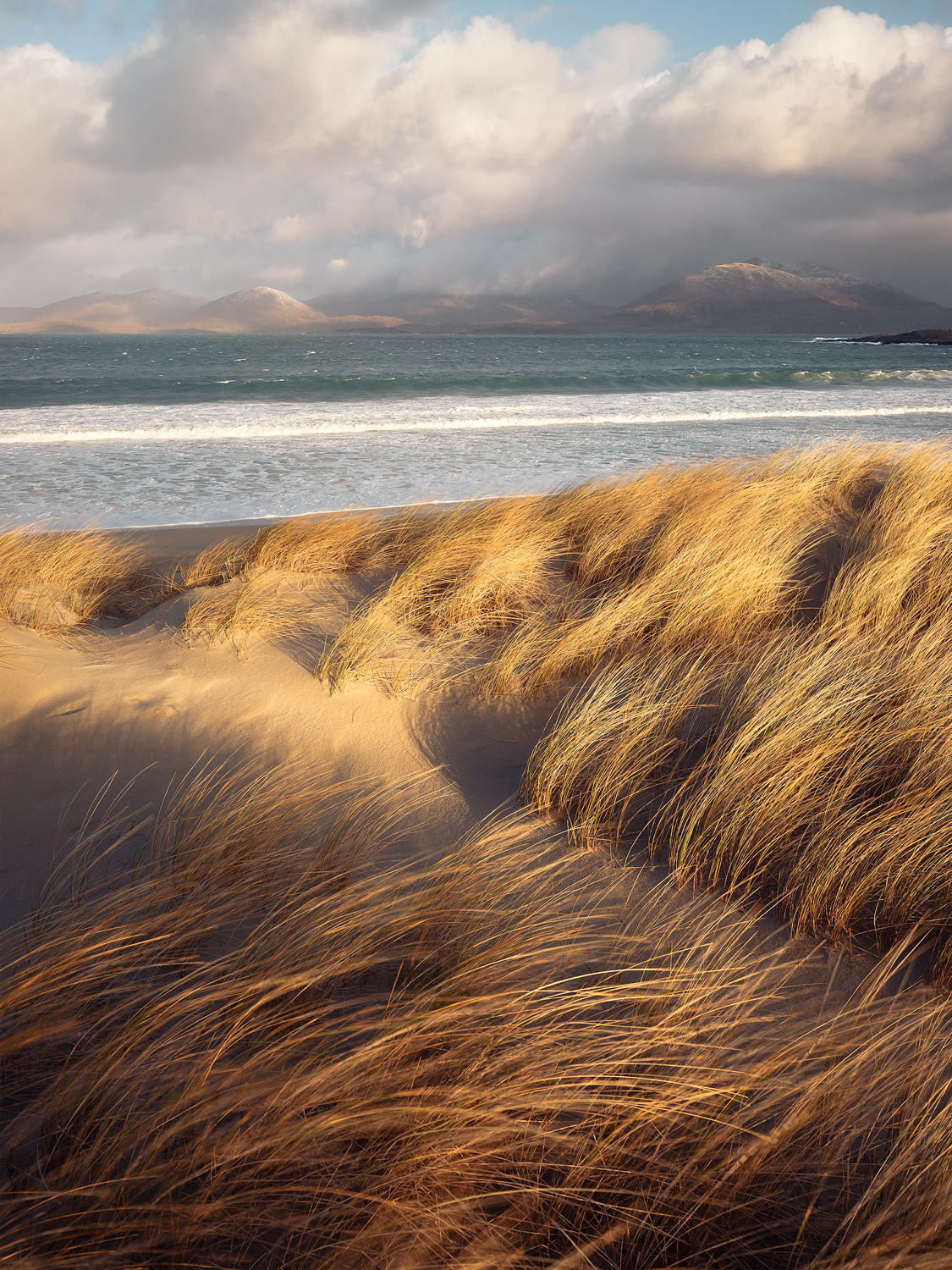 As I walk through the dunes of Luskentyre Beach, the cold wind whipping through my hair, I can't help but feel a sense of awe and inspiration. The light flooding the landscape before me is like nothing I've ever seen before, casting an ethereal glow over the rugged terrain. Snow-capped mountains rise up in the distance, their peaks piercing the sky. In the foreground, the golden light of the marram grass waves gently in the wind. I pull out my camera, eager to capture this moment and share it with others.
The marram grass in the foreground, bathed in golden light, adds a sense of warmth and serenity to the scene. It serves as a contrast to the rugged mountains and the wild sea, creating a sense of balance. The sound of the wind and the waves crashing against the shore create a symphony that only nature can produce, and I feel a deep connection to earth and its natural beauty.
With each press of the shutter button, I am reminded of why landscape photography is such a passion of mine. The ability to capture the raw emotion of a place and share it with others is an indescribable feeling. I invite you, dear reader, to come along on this journey with me, to feel the wind in your hair, to hear the waves crashing against the shore, and to see the beauty of the natural world through my lens. As I pack up my gear, I can't wait to return to this wild and untamed place, to capture its beauty once again.
Camera: Fujifilm GFX50R
Lens: Fujinon GF30mm f/3.5
30mm – f/11 – 1/80s – ISO 125
Luskentyre Beach, Isle of Harris, Scotland