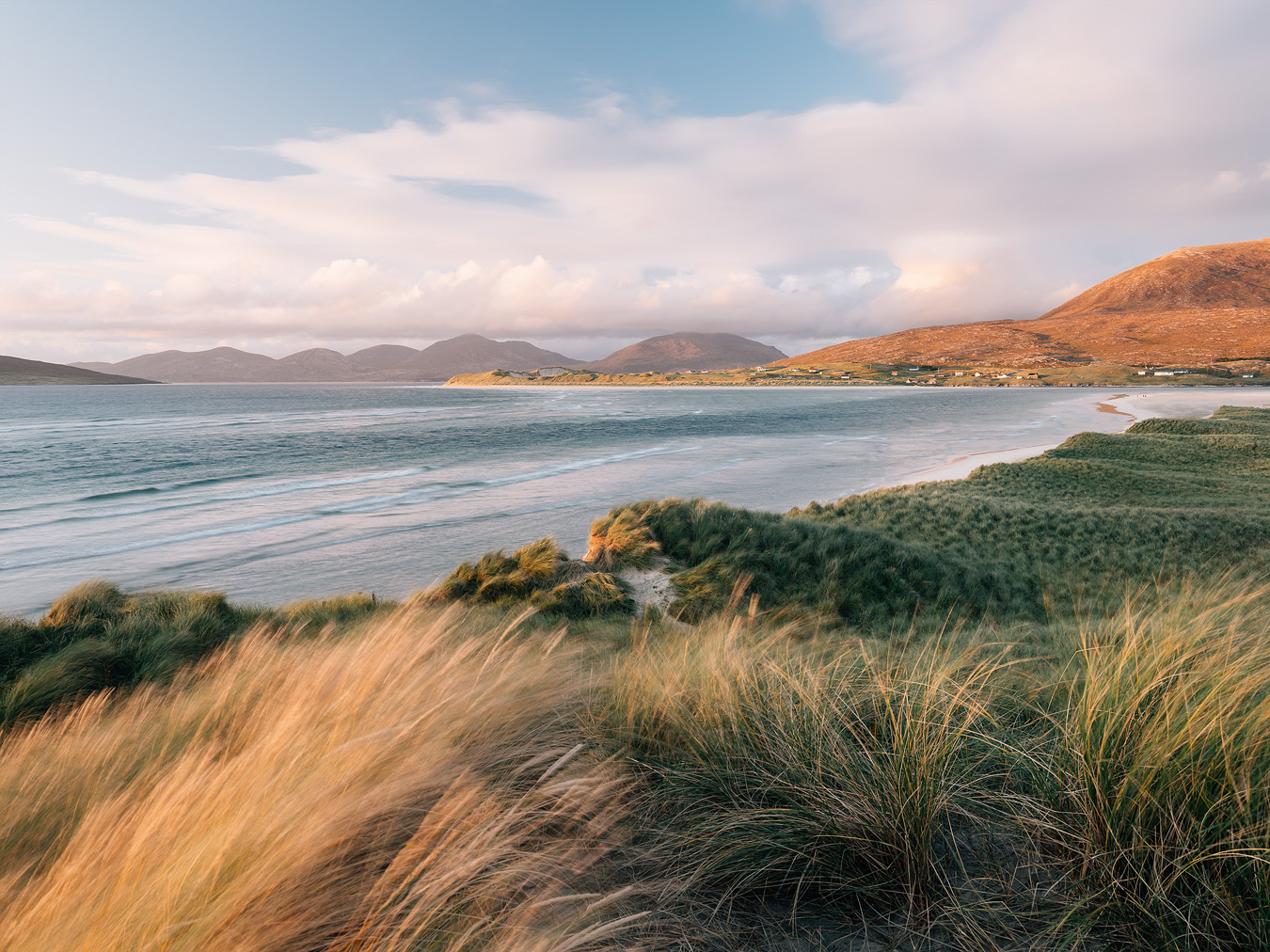 There is something different about the pristine wilderness of Seilebost Beach. Located in the Outer Hebrides in the wanderlust country of Scotland, the remoteness of the location makes the air seem like it had been unexplored. As a landscape photographer, I feel united with this place in the world. I feel a strong sense of pride capturing the unique scenery. On Harris, my lens is always becoming more of an extension of my vision.
The day I took this photo quickly became a memorable one. Lingering in the dancing dunes, I positioned myself low to the ground to fulfil the foreground with a composition of grasses. The distinct dotted pixels of distant buildings were dwarfed by the majestic landscape surrounding the bay. I thought by including them, they would present a somewhat familiar, inviting perspective.
I adjusted and tightened my tripod legs. Mounting my medium format to the base and zooming out to the wider focal length of 32mm, I pondered my camera settings. A slower shutter speed would prove to be a good decision in the end as it gave me full creative control to freeze the moments. There was a sense of openness, and this was something I felt like needed to be captured. I waited for the prime opportunity to form; a mixture of the increasing breeze blended with the colourful developing hue.
Less than a second shutter speed proved to be on-point. The swaying carpet of overgrown golden spears revealed an undulating path to the water's edge. I was able to recount the curved string-sets of whitewash as surface ripples from wind broke the pattern of the surf. Lining the horizon, the clouds kissed the tops of the distant hills providing a natural border to the scene. The Fujifilm GFX 50R's rendition of the scene was flawless. Looking into the image now, I feel like I'm able to relive the moment thanks to the incredible pixel quality from the sensor. 
While we are on the subject of equipment quality, I had no idea a small flock of gulls was present in the photo! It certainly is the little things like this that make me stop and take a moment to ponder the gloriousness of a scene. Sometimes as people, we tend to rush into things instead of taking the time to appreciate what's around us. So, as a creative, through my photos, I hope that you also experience the planet's heartbeat and appreciate the wonders of nature.
Camera: Fujifilm GFX 50R
Lens: Fujinon GF32-64mm f/4
f/16 – 0.6s – ISO 100 – 32mm
LEE Landscape Polariser, 0.6 Soft Grad
Seilebost Beach, Isle of Harris, Scotland, September 2020.
Featured in the monthly LEE Filters YourView gallery in November 2020; selected and commented by renowned Jordan Banks.